We are spending 3 months this winter in the Central Highlands of Costa Rica. Staying in rented AirBnB casitas allows us to have a tiny home from which to base our slow travel.
We don't like to spend too much time each day getting to and from town to find a restaurant and we like to prepare many of our own meals. This also saves us money. It is important to us that we experience "living" here, so we want to learn to shop and cook with locally available foods.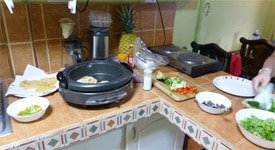 Our current  stay is in a casita with a little kitchen equipped enough for us to feed ourselves for the three weeks we are here. It has a decent sized refrigerator/freezer, sink with PUR water filter, two burner hotplate, toaster, and electric skillet, as well as dishes, pots and pans and most other necessities.
We have tried many vegetable peelers before this one. We were amazed by how much better the Spring Chef vegetable peeler is! It is so sharp and makes peeling potatoes and carrots effortless. We take it everywhere we travel.
Many of our readers know us as healthy, gourmet cooks, so, we thought it would be fun to share how we feed ourselves here in Costa Rica. We take advantage of the well-priced and yummy fruits and vegetables, hormone-free meats, and local specialty items.
Here in Atenas, Costa Rica, we are just keeping it simple, healthy, and local, with a few favorite extravagances thrown in. There is a wonderful bread bakery here in Atenas, run by an ex-pat, where we can get whole grain loaves of bread. We can walk to a neighbor's house for homemade, additive-free ice cream, but neither of these items comes cheaply!
At The Farmer's Market in Atenas, Costa Rica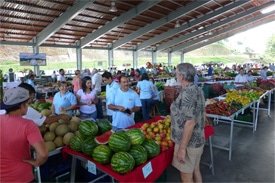 Our hosts, who live in the big house next door, kindly give us a lift to the weekly farmer's market or feria. This weekly market in Atenas is a large, clean, covered area, sitting up above town.
There are many vendors, including some with refrigerated cases for meat and dairy products. There is a large parking area with attendant, a small cafe area for coffee and snacks and public restrooms.
Here are some of the things we purchased at the market in Atenas in the past two weeks:
avocados, green beans, cantaloupe, watermelon, onions (white and green), broccoli, potatoes, pineapple, papaya, chayote squash, cabbage, tomatoes, lettuce, cucumber, cilantro, cheese (similar to feta), bread (made by expat locals), coffee (grown on a permaculture farm near here), eggs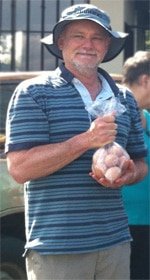 A Few Sample Prices:
A kilo of eggs was about 4 dollars (for 15 delicious eggs of good size)
Sweet and perfectly ripe pineapples, depending on size, run from about 1 to 2 dollars
Avocados are about $4 a kilo which means about a dollar for a good sized one
A good sized head of broccoli was a dollar, same for a head of green cabbage or a huge bag of carrots
This week, we filled our fridge for about $20 (we still had eggs and cheese from last week).
Groceries in Atenas, Costa Rica
We often stop at a grocery store in town, load up our cloth bags and grab a $2.00 cab back to our casita. In the small groceries in town we have purchased milk, juice, yogurt, dried beans, corn tortillas, sugar, spices, mayo, ketchup, guava jam, butter, oil, soy sauce, rice, ginger root, garlic and baby bananas. Also popcorn kernels, cookies and some disappointing chocolate.
The central or municipal market which is open every day is also a great place to fill in our supplies during the week. There are many vendors with fresh fruit and vegetables as well as a meat market and other stalls. The prices seem better than in the grocery stores, but the selection is smaller.
At the local butcher we have purchased pork, chicken and ground beef. The one time we carried our meat home on foot we attracted the attention of many of the neighborhood dogs, so now we get a lift home when we buy meat!
This time of year we are happy to have ripe lemons and limes to pick right from the garden of our casita. We love fresh papaya with a squeeze of lime!
This week, we went with our hosts to Pricemart, a US based chain (sheepish grin), located in Alajuela (about 30 minutes away) for chocolate, wine and peanut butter. We were amazed at the high cost of many of the US products, and at all the locals shopping there. Imagine buying canned fruit cocktail here in the land of amazing fresh fruits! However, there are a lot of items that can only be found at the US based chains and the locals that can afford it, are finding new (though not necessarily healthy) choices.
Cooking at Home in Costa Rica
Here is a sampling of what we are cooking while we are here. Sometimes we also combine leftovers from a meal out at lunch time, with a salad at "home" for dinner.
Taco salad, either with seasoned ground beef, shredded chicken or leftover fish from a restaurant, with guacamole, of course.
Stir fry of local veggies with pork or chicken and brown rice (arroz integral)
Egg scramble with veggies and crumbled cheese
Grilled chicken and roasted veggies and potatoes
Hamburgers with cole slaw (here is our recipe for International Cole Slaw)
For lunch, when we are home, we often have a salad or leftovers.

Dining Out in Costa Rica
When we dine out, we try and get a sandwich or eat the casado, which is comida tipico (typical Costa Rican fare)- a hearty plate of rice, beans, grilled meat, plantains, and some sort of salad. We could split one, but it seems a bit rude, so we take about half of it home to share for dinner. A plate at a local "soda" (casual lunch place) costs about five dollars and sometimes includes a fruit juice drink.
My favorite place in Atenas for a small meal, followed by delicious gelato is at Gelly's, a little cafe that sits up above the road overlooking the central plaza. The staff here is lovely and the gelato flavors are heavenly. Next time, I really must order the small (pequeno) one, but our first time we went for grande and got to have four little scoops, thus tasting as many flavors as possible.

On a recent trip to the Arenal volcano we stayed in La Fortuna, which is a busy tourist town. We had a very reasonably priced room with a pool and patio tables. Right beside the table area was a service window connecting our hotel to the Kappa Sushi restaurant.
Of course, when the power failed at dinner time, we took our flashlight and headed to Kappa Sushi where we had the special sushi roll boat for two, complete with edamame. This was our answer to being away from the US on Thanksgiving and we enjoyed our candle lit Thanksgiving in Costa Rica.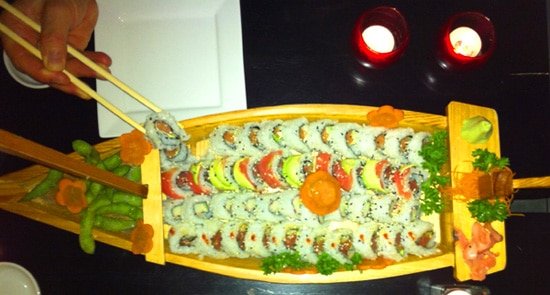 Still More to Taste
We have traveled to a variety of countries and each has wonderful and unique culinary offerings. In Costa Rica we have enjoyed preparing wonderful fresh fruit salads, delicious and fresh meat dishes and amazingly fresh veggies.
We love the fried plantains that are served with the comida tipica at lunch, the gallo pinto (rice and beans) breakfasts and the freshly made ceviche. We also appreciate that we can get some international meals in the bigger cities and tourist towns.
We still have lots to see of this great country. And we plan to report back on the Caribbean influenced cuisine after our February trip to the Caribbean coastal town of Puerto Viejo.
Until then, Pura Vida!
Best of Costa Rica Tours and Experiences
Hanging Bridges, La Fortuna Waterfall, Typical lunch and Arenal Volcano Hike
Guachipelin Adventure: Volcano, Zipline, Horseback, and River Tubing Combo
Rio Celeste Hiking, Sloth Sanctuary, and Llanos de Cortes Waterfall Tour
Coffee Experience, Poas Volcano, and La Paz Waterfall Gardens
Full day Tour of Arenal Volcano, La Fortuna Waterfall, and Hotsprings
3-Hour ATV Jungle Waterfall Adventure
Manuel Antonio Park Nature Guided Tour
Liked this post? Please share it!