The Sierpe Terraba mangroves wetland area is a protected national wetland reserve of 66,850 acres. It protects the river mouths of the Terraba and Sierpe Rivers, and a vast network of canals, mangrove forests, and estuaries in between.
Kayaking, boating, hiking and wildlife watching are some of the reserve's most popular activities. We took a guided boat trip to explore the area and view some of Costa Rica's flora and fauna.
We were fortunate that we made some lovely friends while house sitting in Ojochal. With only a mention of our desire to see more wildlife, we soon found ourselves on a great river trip with our neighbors and a fabulous guide.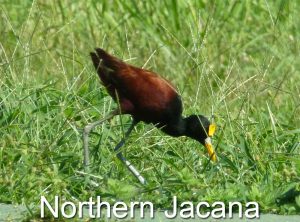 We arrived at  Sofia Cocos Tours in Sierape de Osa where we met Mike, our guide, who is a naturalist and speaks excellent English. We climbed aboard the Vanessa II which is a small canopied boat with padded bench seats and a pilot. As we started motoring down a canal, we immediately saw a Northern Jacana, a brightly colored duck.
We were delighted to see birds and animals only a skilled guide would spot and to have a leisurely visit with troops of squirrel monkeys, howler monkeys and white faced monkeys. The squirrel monkeys did acrobatic play in the trees just a few feet from our boat.
One of the reasons to take a boat tour of the Sierpe River is to view some of the eight species of mangroves found here, which are some of the tallest in the world. We saw red, black, grey, and tea mangroves growing along the shore.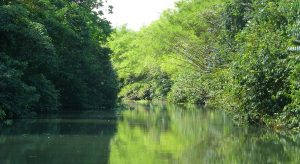 These amazing plants, and their tangled roots, have evolved to survive despite high salinity levels, and the low oxygen content of the mud in which they grow. The mangroves provide a valuable coastal ecosystem to an abundance of avian, mammalian, reptilian and aquatic animals.
Our boat tour in the Sierpe River area of Costa Rica was a huge success. We were able to view many exotic Costa Rican animals and plants from the boat. In addition to the monkeys, the wildlife that we were able to view included  a little blue heron, a green heron, 6 white ibis, a grey-necked wood rail, red-headed woodpecker, common black-hawk, great heron, northern jacana, toucans, macaws and an iguana in a tree. Like us, one of the reasons folks visit Costa Rica is to see the abundance of wildlife.
We all had a wonderful time and took many photographs. We loved our Tico guide and captain, and enjoyed being in the company of local Tico and expat neighbors on this delightful excursion.
Here are some of our favorite images from the boat trip.
Best of Costa Rica Tours and Experiences
Hanging Bridges, La Fortuna Waterfall, Typical lunch and Arenal Volcano Hike
Guachipelin Adventure: Volcano, Zipline, Horseback, and River Tubing Combo
Rio Celeste Hiking, Sloth Sanctuary, and Llanos de Cortes Waterfall Tour
Coffee Experience, Poas Volcano, and La Paz Waterfall Gardens
Full day Tour of Arenal Volcano, La Fortuna Waterfall, and Hotsprings
3-Hour ATV Jungle Waterfall Adventure
Manuel Antonio Park Nature Guided Tour
Liked this post? Please share it!