When we travel we like to stay four to six months in one place and enjoy doing a lot of our own cooking. Cole slaw is one of our standby salads. It is particularly good in tropical countries because lettuce does not keep for very long in warm climates.
Cabbage, on the other hand, keeps well and is always inexpensive. It is a good idea to have a simple, chopped salad in your repertoire. This recipe can be prepared anywhere and can be made with lots of variations depending on what is available in the local markets.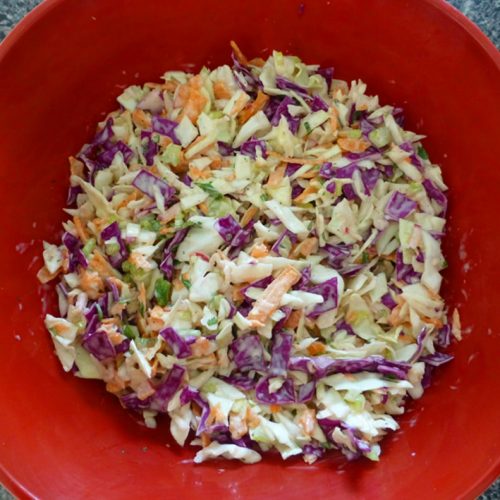 Print Recipe
International Cole Slaw
We like this recipe because it is easy and flexible. We have prepared it in Australia, Thailand, Costa Rica, and Mexico. The main ingredient is cabbage and the balance of the vegetables can be varied by what is available.
Servings: 6 people
Ingredients
4 cups thinly sliced, then diced green or red cabbage or a mixture of both
1/2 cup shredded carrot
1/2 cup chopped celery
1/2 cup chopped or grated jicama
2-4 tablespoons finely diced onion
1/4 cup chopped cilantro
4-6 tablespoons lime juice (1 medium lime)
1 tablespoon vinegar
1 teaspoon salt
1/4 teaspoon black pepper
1/4 cup mayonnaise
1/2 teaspoon sugar or honey
Instructions
Put 4 cups of thinly sliced and then diced green or red cabbage or a mixture of both in a large bowl.

Mix in other vegetables.

Mix in 1/4 cup chopped cilantro.
For the Dressing
In a separate bowl add lime juice, vinegar, salt, pepper, mayonnaise, and sweetener.

Whisk the dressing together well.

Pour dressing over mixed vegetables and stir well. Let flavors marry for 5-10 minutes if possible.
If you don't have a large bowl, you can use a large pot, and if you don't have a grater, you can chop the vegetables by hand. No whisk? Use a fork. You can even add the dressing ingredients one at a time directly into the salad, stirring after each addition.
If limes are not available, lemons work just as well. You can omit the vinegar, or replace the citrus with just vinegar (apple cider, rice vinegar, or any other mild tasting vinegar).
To make the Cole Slaw creamier, use 1/3 cup of mayonnaise or make it more like a vinaigrette with less. You can also replace the mayonnaise entirely with up to 1/4 cup of olive (or other, good quality) oil.
Additional variations:
Add 1/4 cup chopped jalapenos for some heat
Add 1/4 cup chopped radishes for more crunch
Add 1/2 cup red or green bell peppers
Use parsley instead of cilantro
1 tablespoon caraway or cumin seeds add an interesting flavor
Liked this post? Please share it!