We have a month to spend in Ubud, Bali and have found the city to be a culinary delight. There are dozens of warungs (small family cafes), as well as many larger, more commercial restaurants. We have discovered many wonderful eateries, both large and small.
We are mostly interested in Indonesian food, instead of Balinese interpretations of western dishes, but we have had a few of those too.
The Balinese prepare many interesting dishes. Some, such as Nasi Goreng and Chicken Curry, are internationally famous. We have discovered that each chef has a slightly different interpretation of even these traditional dishes. Nasi Goreng is not exactly the same dish in every warung, but we have not eaten one that we didn't enjoy.
Without fail, we have found that all Bali eateries share three traits that make them a pleasure to visit. The first is a small thing that, as Americans we rarely think about. In Bali, you are never brought the bill until you ask for it. In America, where you may be rushed and want to eat and move on as fast as possible, this might seem to be a negative. But, when you ask for your bill here, it is brought promptly, so you are not delayed.
In Bali, you are entitled to sit at your table for as long as you want to. The waiters cheerfully clear away the last of our plates and then leave us. When we are ready to depart, we ask for the bill. We never feel any pressure to relinquish our table and that is a refreshingly relaxing way to dine.
The second universal characteristic of the restaurants we have visited is the artful way that the food is arranged on the plates. Something that you will surely notice when you visit Bali is the abundant decoration in everyday objects. Wooden doors are beautifully carved, iron gates skillfully designed, Balinese offerings are bright with color, and gardens are arranged with a designer's eye. This attention to beauty is included in the presentation of food as you can see from these photos.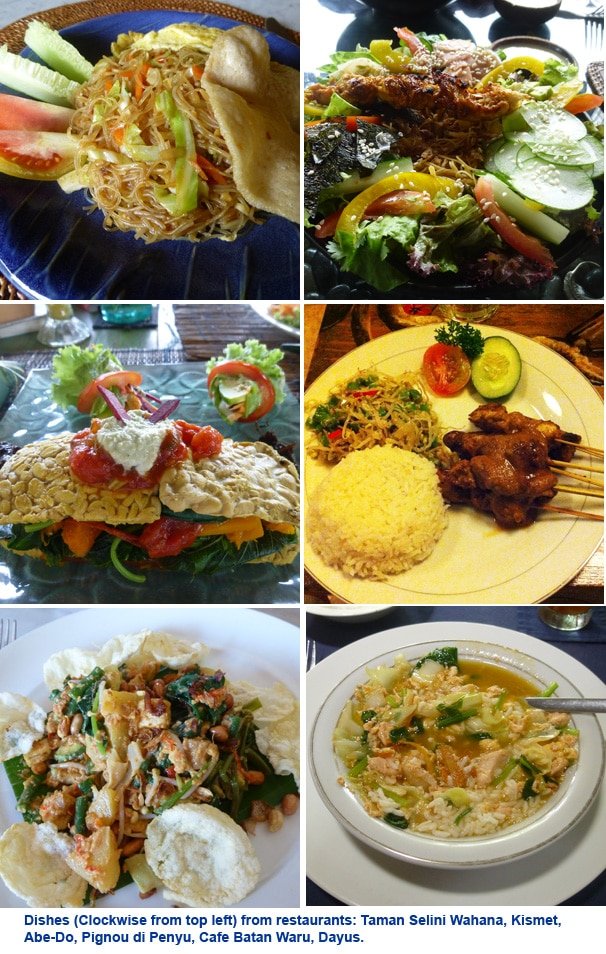 Another great thing about restaurants in Bali are the prices. The average cost of the meals in the photos above is around US$4.00. That is an amazing bargain for fresh, healthy food, carefully prepared and beautifully presented. In truth, you can spend more, especially if you want western food, such as hamburgers, grilled steak, or sushi. But even the more expensive restaurants are a great deal compared to the cost of similar dishes in the US, Canada, Australia or Europe.
We had expected to find delicious food in Bali restaurants at good prices, but we were surprised to find it so beautiful to behold as well.
Liked this post? Please share it!