Snorkeling is one of our passions and we have been lucky enough to enjoy it on three Hawaiian Islands, in Costa Rica, in Thailand, in Bali, in Australia, and in the Caribbean waters of Mexico. Wherever we travel, we always pack our snorkel gear.
There are only a couple of things that will keep us out of the ocean and one of them is jellyfish.
Neither of us have ever been stung badly, but we have experienced the feeling of tiny electric shocks on our skin from almost invisible, and impossible to avoid jellyfish larvae.
It was not fun and it ruined what would have been a beautiful day snorkeling in Bali.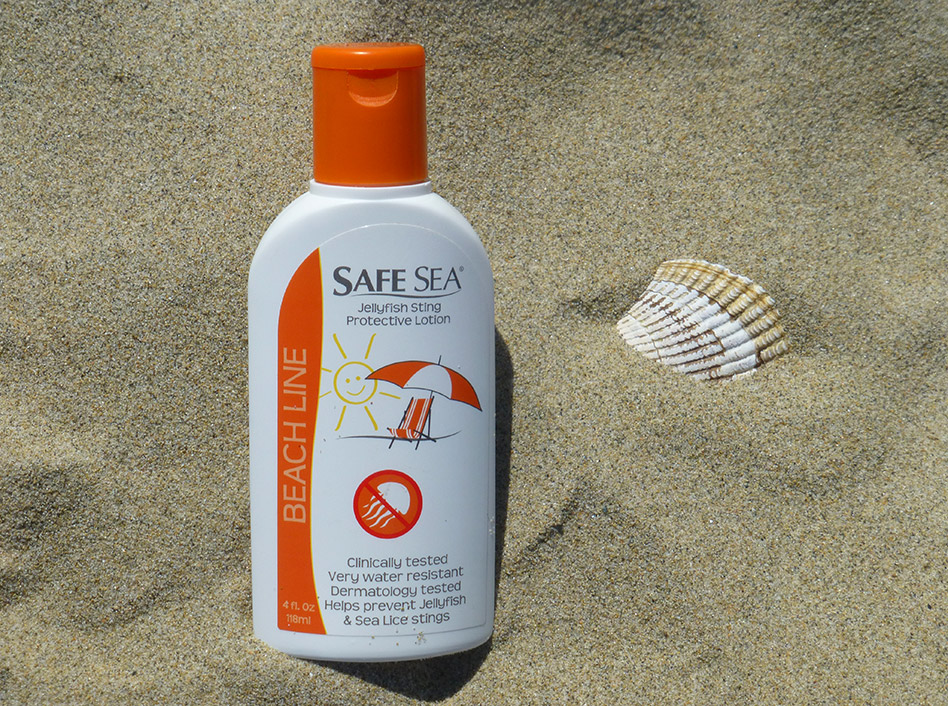 We still will avoid the ocean if we learn that there are large jellyfish in the water. If we are unsure, we apply SafeSea.
Originally, when we purchased SafeSea Anti-jellyfish Sting Protective Lotion it didn't have sunscreen in the formula, but now it includes it, which is great, because otherwise we were applying two lotions before snorkeling! It is truly a unique and amazing product and for people who enjoy snorkeling and diving, it is a blessing.
Here are the details of SafeSea Anti-jellyfish Sting Protective Lotion With SPF50 Sunscreen
Developed by jellyfish toxin expert Dr. Amit Lotan, PhC
Anyone who's ever suffered the pain of a jellyfish sting knows it's an experience they never want to repeat.
In the past the only way to be sure you could avoid it was to stay out of the water, but no more.
Marine biologist and jellyfish toxin expert Dr. Amit Lotan, PhD. has developed Safe Sea®, the first product to combine sunblock with protection against the stings of jellyfish and other stinging aquatic creatures.
Two lines of defense
By creating a surface barrier on the skin much like the one clownfish employ to avoid anemone stings, Safe Sea® offers protection against the stings of such jellyfish as the Atlantic Box jellyfish and Rhopilema, Sea Nettle, Fire Coral and other stinging aquatic organisms.
A second line of defense is provided by the formula's ability to greatly reduce stinging cells' ability to fire. Also offers protection from Seabathers Eruption, commonly blamed on "sea lice" but actually caused by the stings of hundreds to thousands of tiny, immature, nearly invisible jellyfish.
Available in 3 varieties
• The original Safe Sea® lotion formula is ideal for divers as it contains no sunscreen. Use alone, or mix this variety of Safe Sea® lotion 1:1 with your favorite sunscreen for a custom level of UVA/UVB protection.
• The SPF formula is ideal for those who want protection from both jellyfish stings and harmful UVA/UVB rays, and contains vitamins E and B for the skin. Available in SPF 15, 40 and 50. SPF 50 Kids is a special formula of the same lotion for children and adults with sensitive skin.
• Finally, the new manual pump spray bottle is available in SPF 40.
All varieties are hypoallergenic, highly water resistant for up to 80 minutes in the water, and have no unpleasant odor.
Scientifically proven formula, validated by medical and lab tests around the world
Recommended in National Geographic Adventure magazine
Dermatologically tested to be hypoallergenic
Highly water resistant, lasts up to 80 minutes in the water
Biodegradable and harmless to aquatic life
Each 4 oz. bottle gives roughly four adult full-body applications
Shelf stable for within 3 years of purchase
Does not clog pores, and includes vitamins B and E to keep skin soft and hydrated
More choices in jellyfish sting protection
Full Body Snorkeling Protection With a Rash Guard
When we were snorkeling the Great Barrier Reef in Australia, we learned that wearing a full body rash guard suit would also protect against stings by jellyfish and sea lice. Plus, it functions as a sun block and even kept us warmer in the sea.
This solution also means that no sun block needs to be worn, which is safer for the coral. Diving skins, as they are also called, are available in all sizes and are not expensive. They don't weigh much or take up much luggage space either.
Here are some top rated choices in rash guards.