The state of Hawaii consisting of the Hawaiian islands includes some of the most unique terrain in the United States. It is the only state that is a chain of islands and the climate includes wet tropical, dry tropical, temperate, and even alpine regions.
We have been fortunate enough to have visited the islands of Kaua'i, Oahu and Hawai'i (the big island) and have relished our time in each of these unique locales. The islands are one of the few places we have traveled where we can don our snorkel gear and swim out a few hundred yards from the shore onto the wonderland of a tropical reef. Our delightful snorkel adventures on each of the islands we have explored has made us lifelong fans of the sport.
The gorgeous tropical plants and unusual animals and birds continue to amaze us and the awesome sight of active volcanoes is always thrilling. Lounging on the soft golden sand of tropical beaches while being transported by spectacular sunsets are experiences that live forever in our memories and lure us back for yet another visit to the splendor of the Hawaiian islands.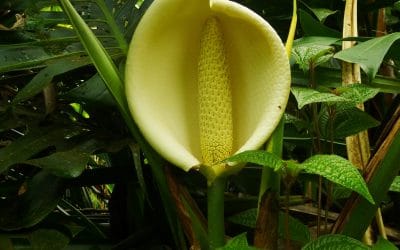 The Mauna Loa Peace Lilly is a large hybrid of the Peace Lilly that is a common indoor garden plant on the mainland.
read more