Costa Rica is well known as one of the most stable, prosperous, and progressive nations in Latin America. We found the people, natives and expats alike, to be friendly and cheerful. But for us, it is the wildlife that keeps us returning.
Around twenty-five percent of the Costa Rica's land area is in protected national parks and protected areas, and we found these places to be filled with all manner of interesting and wonderful creatures. With an amazing five percent of the world's biodiversity, Costa Rica is a nature lovers paradise.
The abundance of plants and animals is staggering. In Costa Rica we were thrilled with the opportunity of spotting four species of monkeys, hundreds of species of birds, huge reptiles, spectacularly colored fish and undersea creatures, and an enormous variety of insects—well, not so much the tarantulas in our apartment!
For a small country, it has a remarkable variety of terrain—some of the highest mountains in Latin America, lush lowlands, and the brilliant waters of the pacific ocean and the Caribbean sea. The multitude of beaches on both coasts captivated us with their dazzling, white sand and radiant blue waters.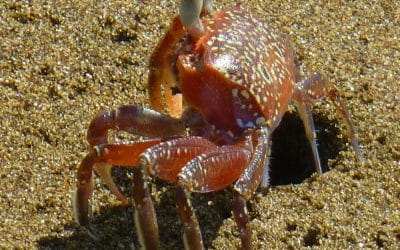 Although ghost crabs are considered nocturnal, the entire dry section of the beach at Marino Ballena was covered by the holes to their burrows.
read more