Bali Photo Journal
Bali and its warm, friendly people and breathtaking landscapes amazed us daily, during our time in Ubud and the surrounding countryside. Dazzling flowers and lush green plants were everywhere we turned.
Beauty abounds in Bali, from the tiniest flower to the verdant rice fields and huge tropical blooms. The Balinese people view the creation of art as a religious practice and take care and pride in each offering they craft.
Each day, as we walked around Ubud, or toured the region by motorbike or car, we were astounded anew by the gorgeous colors, the lively villages and the spectacular scenery, architecture, carvings and paintings.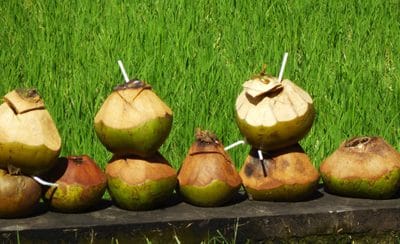 In Bali, fresh coconut water is a popular beverage. At first we thought that these coconuts were awaiting customers. We later learned that someone will eventually come by and recycle them.
read more