Keep us traveling and blogging! Purchasing our hand picked products through links on this site earn Neil and Laurie a commission at no cost to you. We appreciate your support.
I am not known for packing light. I have so many items that I must have with me. I have to be just the right temperature at all times and I can't sleep without my pillow and high thread-count, cotton sheets.
We often travel for long stretches and through multiple climates, so, I conserve space and weight in my luggage whenever possible. Did I mention that I dislike carrying a big heavy suitcase? Here are five of my favorite travel tips to lighten your load when on an extended trip, house sitting, or just trying to get everything in your tiny roll-aboard:
Compression Bags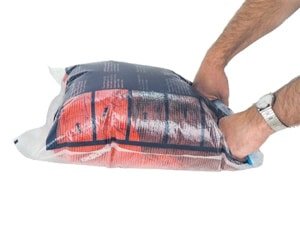 I was so shocked to learn that friends who I think of as seasoned travelers did not know about my favorite travel tip- compression bags. On TV you often see these marketed as space saver bags that people suck the air out of using a vacuum and use to store out of season clothes in the closet or under their bed.
These are a little different. Companies like Space Savers make great compression bags, that come with handy double zip locks, perfect for travelers who want to pack light.
You squeeze out the air by simply rolling them up. We take a pile of four bulky items like polar fleeces and sweaters (that would normally fill a carry-on) and squish them down to half the space! We have these in three sizes.
I use the smallest size to pack my down pillow in my day pack and still have plenty of room for my Netbook, water bottles, Kindle, and all my purse stuff. Choose sizes that fit your luggage and be aware that too many of these might put you over your weight limit.
Organza Party Bags
I think of organza bags as wedding favor bags, though I don't know what you put in them at a wedding! What I use them for is jewelry. I used to have this gorgeous, suede jewelry roll, with pockets and zippers- a lovely and cherished gift. I think it weighed over a pound, empty!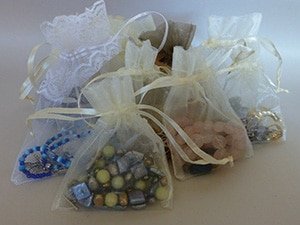 These are see-through, weigh nothing and keep my jewelry from tangling up. I pack my jewelry in groups of like colors- all the earrings that go with blues and purples are in one bag, for example. You could also store sets that are worn together in one bag.
Altogether, the jewelry I travel with weighs exactly one pound when loaded into my empty Camelbak water bottle!
Buy these in quantity. You will want to use them for all kinds of things. They make great gift bags. I use one for a little sewing kit, too.
Baby Washcloths
I read about this tip when I was heading for Germany. I learned that washcloths are uncommon in European hotels.
These little gems are tiny (they are for little babies), dry fast (they are poly, not natural fibers), and can be used for so many things. I spread one on the bathroom vanity before opening my mineral make-up and laying out my brushes.
I keep one in my purse for a quick freshen up in the airport or a restaurant. I use them to wrap up things that need cushioning in my luggage. And, I did need them in Germany- no washcloths, it was true.
Baby washcloths are great for when you are moving around a lot as they dry quickly. You can use one before bed, hang it up to dry and it is ready to pack by morning (unless you are in Bali where everything takes four times as long to dry).
I have a little chromebook computer which I love because it is so lightweight! However, it does not have great sound, or even very loud sound.
In fact, in noisy rooms, sometimes I can hardly hear the music I am playing or hear the video I am watching. That's why I was so thrilled to discover the OontZ Angle 3 Portable Bluetooth Speaker.
It charges off of my computer, or any USB charger. It is small enough to pack easily and delivers excellent stereo sound — plenty loud too!
I can also pair it via Bluetooth with our tablet or smartphones. At around $25, I think it is amazing, and makes my computer a great travel stereo.
Sarong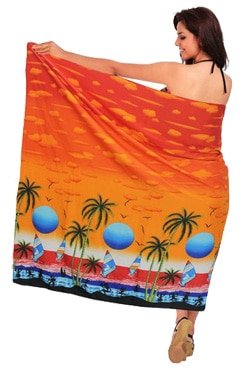 We would not go anywhere without at least one sarong per person in our luggage. We each have a cotton one from Bali, and I also have a few rayon ones. The rayons dry fast and pack up really small. I always take one to the movies in case they decide to turn up the chill in there.
Sarongs are our go-to beach cover ups, picnic blankets, tropical bedding (when it is too hot for even a sheet), and room decorations. A sarong makes an instant table cloth, privacy screen, head covering or beach towel.
Enough said. Use your imagination and run with it. Well, I hope that you got some great ideas for your next adventure. I would love to hear from you, if you have tried any of these travel tips, or have a packing light suggestion to add to the list. Happy Travels!
luggage photo by Nicole Hanusek
Liked this post? Please share it!