This is Part 3 in our Chronology of a House Sit series.
Read Part I – Arrival here
Read Part II – Living Your Life in a Foreign Country here
Leaving a house sit is a big transition and requires a lot of organization. As house sitters, we really want the homeowners to be able to relax and enjoy being back in their home. At the same time, we are also getting in gear to travel again. Most often, we spend a day together with the homeowners sharing stories. We are usually itching to get going, but know it is important to take the time to connect, reassure and just enjoy socializing.
Warm Goodbyes
When we spent six months in Australia as house sitters, the neighbors and friends of the homeowners had welcomed us into their community and many had become our friends. Since our final day in town fell on my birthday, I arranged for these folks to come say goodbye at a nearby winery and share coffee and cake with us. I checked in with the homeowners in advance via email and they were excited to join us and see all of their friends in one convenient gathering.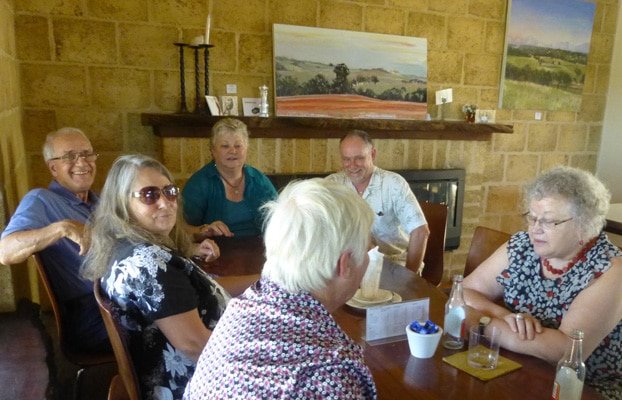 Its In the Details
The longer the house sit, the more tasks are involved with winding down. Since we typically stay somewhere for two to six months, we usually have a lot to do to prepare to leave. Having settled into a home, filled the pantry and the fridge, and spread our belongings around, it is now time to start gathering, cleaning, and rearranging.
We have learned that taking photos of the homeowners belongings upon our arrival makes it much easier to put everything back where it belongs. Often, once the homeowners leave, we put breakable and special items away and we want to put them back where we found them. With photos to confirm how things should look, this is an easy task.
The final week of a house sit is usually reserved for all the cleaning and packing up, so we don't plan to do any touring or sight seeing during that time. We start by gathering our belongings and packing up what we can, and then doing the deeper cleaning and any rearranging. We clean every shelf and bin in the refrigerator and put the pantry in order.
Most homeowners leave us with some basic staples, so we make sure the pantry and fridge are stocked the way we found them.
A Welcoming Meal
We usually prepare a simple meal for the homecoming, whether or not we will be at the house when the homeowners return. Weary travelers might want a light meal and a rest, no matter what time they return, so it is best to have something on hand that can be served when they are ready to dine. We also bake a little treat.
If we have made plans in advance for a meal together, we have everything ready to eat and choose some nice wine to share.
Final Touches
When we are pet sitting, we make our furry kids especially fluffed up and pretty in preparation for the reunion. A doggy bath gets saved for the last day.
On the last day or two, we also put fresh linens on the bed, put out fresh towels, and dust and mop one last time. We make sure any outside tasks are caught up, like weeding and mowing the grass.
If we are spending any additional nights, we move ourselves into the guest room and make sure the master bath is ready for the masters! We check the car (if one was provided) for any of our belongings, and give it a good cleaning.
Putting It On Paper
This is a good time to write up a summary of important information to share. Did anything break or seem to need attention? Did we purchase anything required for the house or pets that we have receipts for? We also include things we appreciated about the home and animals as well as a request for references to be posted on the house sitter platform.
Ta Da!
Fresh flowers in the house and a good sweep up of any outdoor areas, cleaning off of patio furniture, some glass cleaner on the sliding door and we are ready for those smiling travelers to return.
Liked this post? Please share it!